The recipe of the week
Revisited vegetarian couscous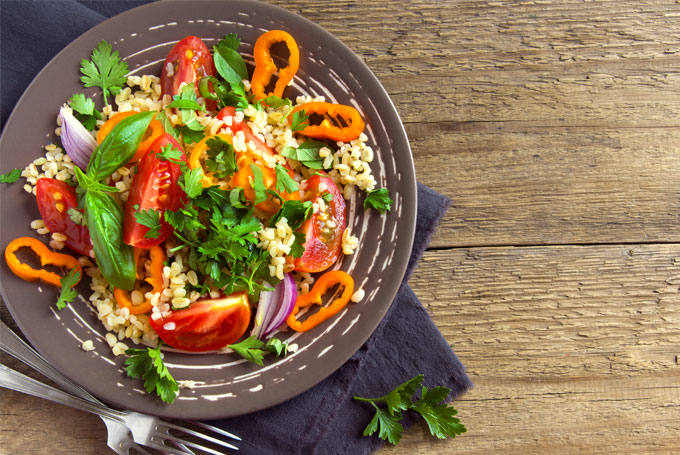 Ingrédients (For 4 people )
600 g raw peeled red beetroots (4 to 5)
700 g raw peeled carrots (8 to 10)
45 g Harissa paste
1 tsp ground cinnamon
1 tsp ground cumin
20 g fresh peeled chopped ginger
3 tbsp olive oil
200 g raw millet
250 g cooked chickpeas
30 g dried cranberries
40 g coarsely chopped walnuts
10 g chopped fresh coriander
Juice of 1 lemon
Salt and pepper
Préparation
Preheat the oven to 220°C.
Slice the carrots in half lengthwise. Cut the beetroots into large strips (approximately 1 cm thick). Line a baking sheet with parchment paper and arrange the carrots and beetroot strips on it.
In a bowl, combine the harissa, cinnamon, cumin, ginger and olive oil. Pour half of the mixture over the carrots and beetroots, and brush them to ensure that all their surfaces are coated. Season with salt and pepper. Bake for 35 to 40 minutes.
Meanwhile, toast the millet grains in a large cooking pot over medium heat for 3 minutes until they are slightly toasted. Then add 500 ml of water and a pinch of salt. Bring to a boil and cover. Cook over medium heat until all the water is absorbed, for approximately 15 minutes. Remove from heat and leave to absorb for a few minutes, then fluff with a fork. Set aside.
In a cooking pot, combine the remaining harissa mixture, the tomato concentrate, 200 ml of water and the chick peas. Simmer over medium heat for 10 minutes. Add the walnuts, dried cranberries, coriander and lemon juice to the millet.
Once the vegetables are cooked to your taste, arrange all the ingredients on a pretty dish.